As we explained in an earlier post, it's a best practice to start any network design implementation with the business question in mind. Once you identify that, you should have a clear list of scenarios that you need to run to answer the question(s). There is also an opportunity to run some exploratory scenarios. These may uncover hidden opportunities for optimization that are not always immediately apparent or obvious.  You might be able to suggest some optimization opportunities to the business that they had never thought about. 
Here are some ideas for typical scenarios: 
Base case 
You need a validated base case to ensure confidence that your model represents reality. This will also be a reference point from which you can measure optimization benefits.  
Relaxing transport constraints 
This will show you opportunities for allocating customers to different service locations to optimize costs. These are often "low hanging fruit" as they require little or no investment to execute. 
Relaxing DC capacity constraints 
Relaxing DC capacity constraints may highlight opportunities to shift volumes between locations to save costs. It will also reveal the quantum of additional capacity required at DCs to make these shifts, and whether it is worth the CAPEX investment to do this compared to the OPEX savings that can be achieved. 
Relaxing supplier and production constraints 
This will show you shifts in supplier and production volumes that may deliver a cost improvement. In some cases, supplier and production shifts can be done easily without massive investment.  In other cases, the opposite is true.  But either way, this scenario will highlight the quantum of the shift and the expected OPEX benefits, which can then be weighed up against the CAPEX required.  
Allowing the model to close locations 
This is a high-impact decision. This scenario helps you identify the locations that could be considered for closing in order to save costs. 
Exploring CoG (Centre of Gravity) candidate locations 
A Center of Gravity analysis helps you compare the current network to a hypothetical "blue sky" network.  AIMMS Network Design comes with Center of Gravity capabilities that help you identify some candidate locations. You can run these together with the existing network in the app.  The optimization will reveal the best mix of existing locations and new "greenfield" locations.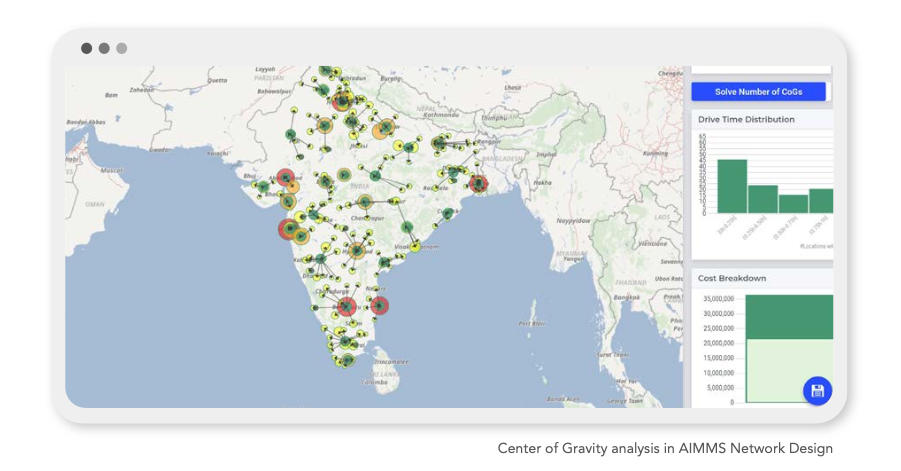 Adding Lead time constraints to the optimization 
In AIMMS Network Design, the optimization will give you the "best cost" network but still respect lead time (drive time) constraints.  This will result in a balance between cost and service levels that may be a better solution than just optimizing on costs.  
Running some demand flex scenarios 
Running optimizations against the base case network can reveal many insights. You should also optimize for the future by running some scenarios against projected future demand.  These projections may not be accurate, but you could run high growth / low growth / expected growth scenarios to put some confidence bounds around your forecast. 
There are many other scenarios that can be run. The list above should provide a good starting point to explore optimization opportunities.  Leave a comment below if you have any questions about running these scenarios in AIMMS Network Design or share some useful scenarios you've run!
Download our full Guide for more implementation best practices.
Also in this series: