Product Update - November 2019: Important Deprecations, SC Navigator updates, Documentation Improvements and Survey
This post is an archive of the Product Update email sent by AIMMS Product Owner, Gertjan de Lange.

The year is almost coming to end. Let's cover some important news and feature releases you should be aware of as we head into 2020. By the way, if you have colleagues who would benefit from receiving upcoming Product Updates, ask them to sign up on this page!
Important: Deprecations coming up


  As we announced in previous Product Updates and through product notifications, there are a number of deprecations coming up. Here's a reminder: 
As of this month, the Map Widget V1 and Page Actions V1 in WebUI will be removed from our releases. Please make sure all your Apps are converted to the new Map Widget (available since AIMMS 4.61) and built using the new Page Actions identifier setup (available since AIMMS 4.68). Please use AIMMS versions 4.68 or 4.69 to do so. 
Starting in January 2020, all AIMMS software releases will be 64-bit only.
Per January, all AIMMS software releases will no longer support dongles. Contact us to request software nodelock licenses.  
AIMMS SC Navigator 


Since the introduction of AIMMS SC Navigator, we have been expanding the number of Apps as well as the functionality of the Apps themselves, based on our vision and customer feedback. Most recently, we enhanced AIMMS Network Design Navigator with the following features:  
Executive review

: The new scenario comparison functionality allows you to drill into more detail (transport costs, cost/unit) and compare scenarios side by side to evaluate differences and impact.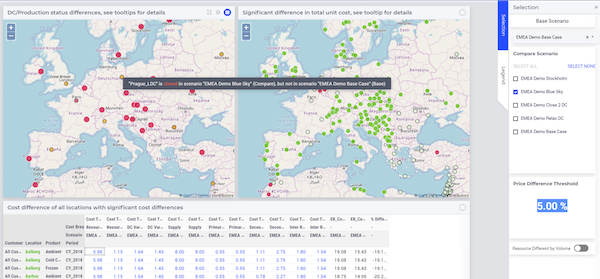 Demand simulation capability

: Tackle demand uncertainty by simulating how changes in customer demand would impact your network's capacity and costs. Assess how much additional demand your existing solution can accommodate and where it becomes infeasible.

 

Detailed cost breakdown by location

: This new functionality provides you with insight into how various cost components (fixed cost, variable cost, supply cost, transportation cost) are influencing the cost to meet the demand for a given product at a given location.

 
Custom CSS via Annotation  



We have seen many developers making use of annotations to adjust the look and feel of widgets in the WebUI, so we created documentation to elaborate on the changes we currently support and added some examples. We hope this gives you more guidance. Click here for details (see "Widgets and CSS properties supported for Annotation").  
Calendar and Time Zone Update



In our September and October Product Updates, we mentioned that we were rolling out a DateTime picker in combination with Time Zone support. Unfortunately, we are facing some development challenges. Last week, we decided to halt the development of these features and re-group, as we were unhappy with the results. We are looking into possibly releasing the DateTime picker without the ability to set different application time zones, so Apps that do not run on multiple time zones can already benefit from it.
 
If you are running Apps in multiple time zones, please let us know so we can perform tests with your use case.
Help us improve our support resources by taking our survey!



You know best what you need - please tell us in this brief survey! It should take about 5 minutes, and your input will help us greatly in deciding what to focus on as we improve and expand our product documentation, developer resources, and community content. 
New Search in Documentation and How-To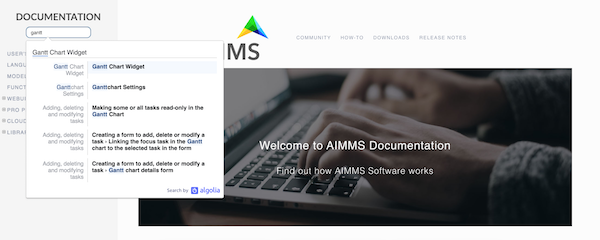 Speaking of improving support resources, we have added a search functionality in How-To and our Documentation. Check it out and don't miss the handy new Keyboard shortcuts list for developers.
Cloud Uptime Stats


Did you know we've had 100% uptime in our AIMMS Cloud Platform for the last 6 months in a row?
I hope this Update has been useful. Please share your feedback in the comments below.