Happy holidays! Every month, we send out an email digest with our latest supply chain content. If you're not signed up to receive it in your inbox, you have the chance to read the trending topics in our Online Community! Here is an overview of the content we shared in December.
Find Out How Demand Forecasts are Evolving
Missed our recent webinar on demand forecasting? Watch the recording for research insights and learnings that will inspire you in the new year! Find out which technologies and techniques your peers are investigating to better anticipate demand. Discover industry perceptions on forecast accuracy and more. Watch the recording.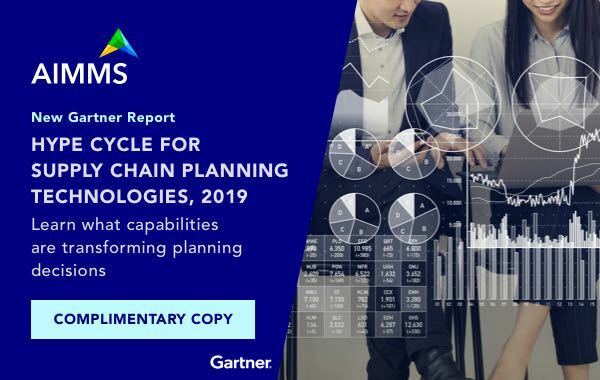 Don't Miss Your Complimentary Copy of Gartner's "Hype Cycle for Supply Chain Planning Technologies, 2019"
Ready to revamp your supply chain planning technology stack in 2020? Find out what's hot in this Gartner report. Discover technologies, capabilities and frameworks that can help you make more effective planning decisions, and find out what to prioritize based on your organization's maturity level. Gartner lists AIMMS as a Sample Vendor for Configure Planning, Integrated Business Planning, Network Design, and Prescriptive Analytics in the report. Get your copy.