Every month, we send out an email digest with our latest supply chain content. If you're not signed up to
receive it in your inbox
, you now have the chance to read the trending topics in our Online Community! We will start posting them here on a monthly basis. What's new in July?

Assess your Demand Forecasting Process with our New Quiz
In today's volatile and uncertain world, the future is getting harder and harder to predict. Demand forecasts are only becoming less accurate. How are supply chain professionals dealing with this? What kind of enabling technology are they using to embrace this shift? How is their approach to forecasting evolving? We're running a quiz to address some of these questions.
Take the quiz
to find improvement areas and see how your process compares to others.
Sales & Operations Planning Is Changing At An Accelerated Pace
Gartner's
Magic Quadrant for Sales and Operations Planning Systems of Differentiation suggests that the market is moving quickly to place increased value on the analytical component of S&OP. We feel fortunate that the market is moving towards us in this regard. In the report, Gartner states that AIMMS is "especially strong in hierarchy/translation management, supply chain modeling and financial impact analysis of plans and scenarios."
Read our new blog post
for more insights on this topic.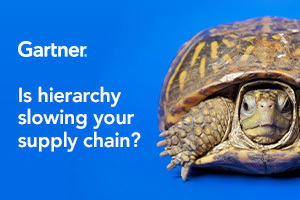 Is Hierarchy Slowing your Supply Chain?
Is hierarchy outdated in today's digital age? Industry leaders are embracing new organizational models to drive supply chain agility. This gives them more flexibility to sense and respond to changing situations and customer needs. Learn from their approaches in
Gartner's
"
Digital Supply Chain Leaders Must Move Beyond Organizational Hierarchies
" - a report brought to you by AIMMS.
Download it here
, it's available for a limited amount of time.