Announcing MOPTA Competition Winners 2023! 🎉
The 15th AIMMS-MOPTA Optimization Modeling Competition was held last month. The competition, which AIMMS has sponsored for several years now, is itself a part of the larger MOPTA conference hosted by Lehigh University in Bethlehem, Pennsylvania.
We're proud to announce the winners of the MOPTA Modeling Competition for this year: 
🥇Winner: Team "OptiCoffee" 
Institution: Universidad de Los Andes, Colombia 
Members: Ariel Rojas and Juan Betancourt 
Advisor: Daniel Yamín 
🥈2nd Place: Team "Vultures" 
Institution: Vrije Universiteit Amsterdam, Netherlands 
Members: Fergus Hathorn and Iker Olarra Maldonado 
Advisor: Alessandro Zocca 
🥉3rd Place: Team "Clean Air Avengers" 
Institution: University of Bern, Switzerland 
Members: Nicklas Klein 
Advisor: Norbert Trautmann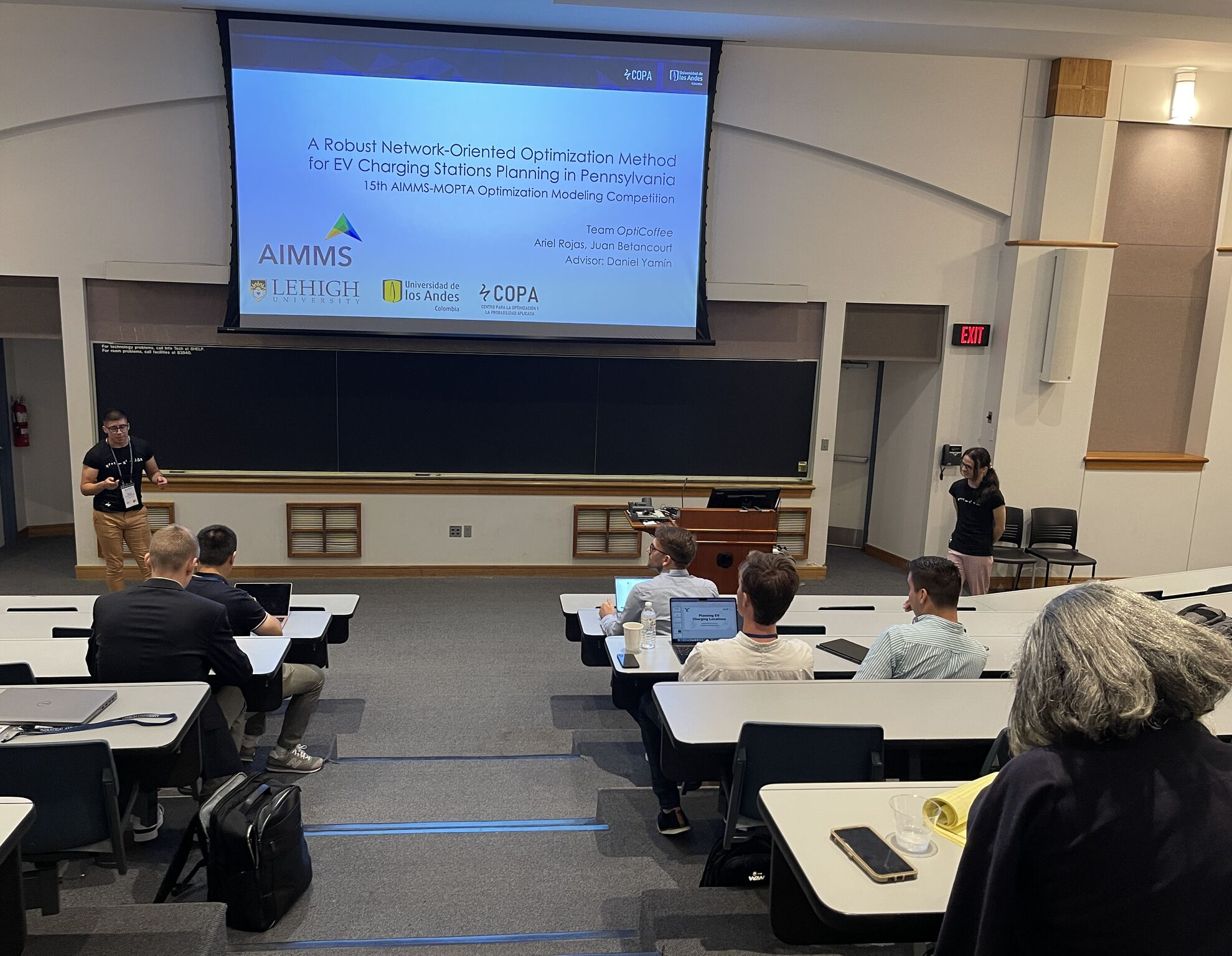 Congratulations, Team OptiCoffee! ☕
There were 13 teams entered, where 2 of them used AIMMS on their application, and it so happens that the first place winner, Team OptiCoffee was one of these teams! 
About the conference and competition 
MOPTA is an annual conference where experts gather to explore how mathematical modeling and optimization can solve real-world problems. It's all about using math to find the best solutions in fields like engineering, economics, and healthcare. This year's event the participants were able to hear Laura Albert, INFORMS president, talk about a few projects she did during her career and the importance to connect with the public to share the results of her studies. 
This year's Modeling Competition problem was focused on electric vehicle charging. The goal was to identify optimal locations for constructing charging stations in a specific region as well as the number of chargers at each station to minimize the total cost, while meeting the expected demand. 
The 3 finalists of the competition presented their projects during the MOPTA conference. I was honored to represent AIMMS as a judge in the competition along with Tommaso Giovannelli and Xiu Yang. The judges considered both the model and the user application to make the final decision, which in fact was not easy!  
What's it like to participate? 💬
We can also add a shout-out to Fergus Hathorn, who recently joined AIMMS! Before joining us, Fergus entered and competed in the competition. His team, with fellow student Iker Olarra Maldonado, won second place!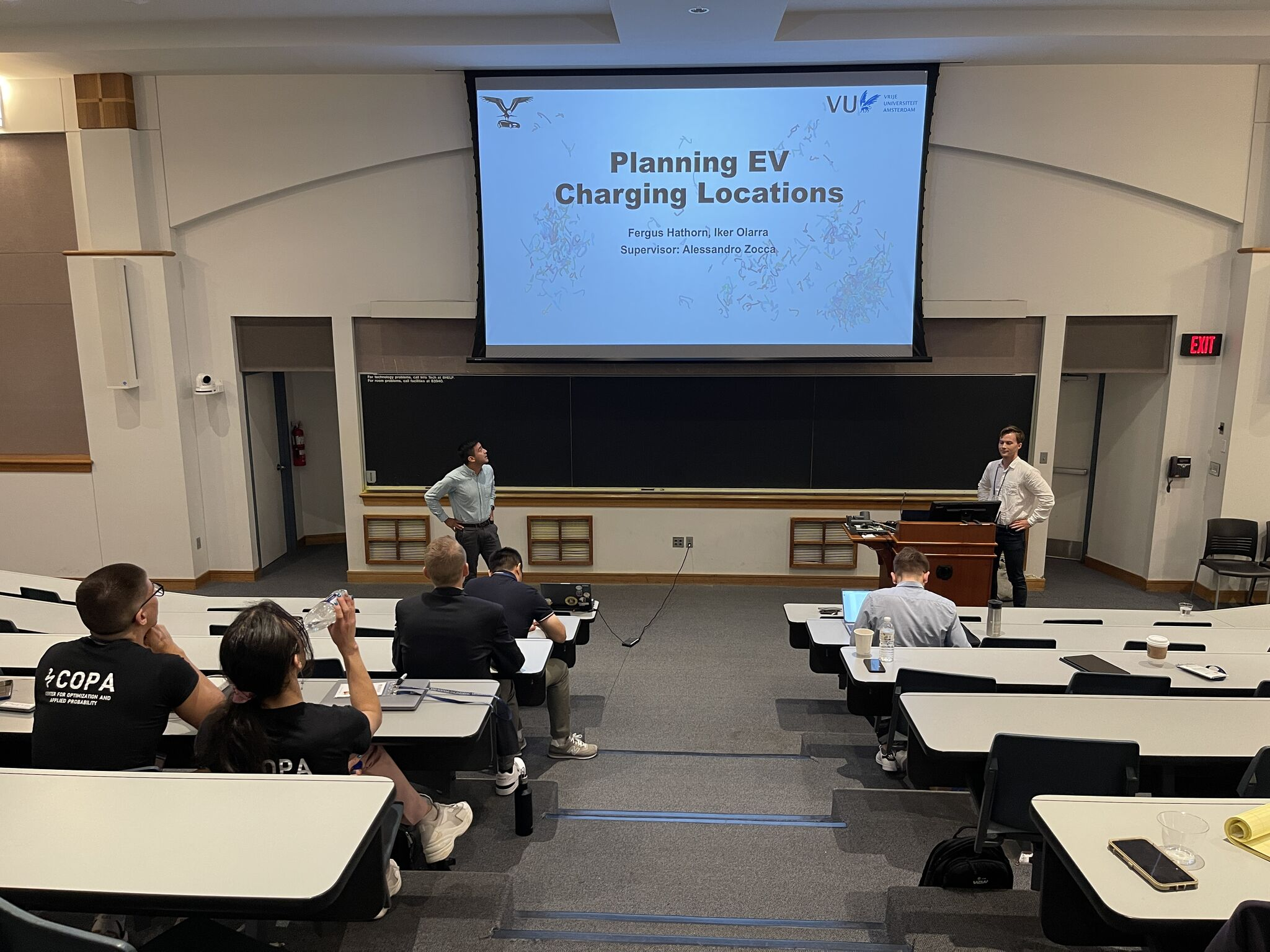 Fergus shared with us a participant's perspective of the competition: 
The broad problem statement meant that it was possible to approach the problem in a creative way. Each finalist had a totally different approach to the problem, making for very interesting presentations. Participating in the competition was a valuable opportunity to go through the motions of solving a practical problem with optimization. 
Huge thanks to EVERYONE who entered! 🙏
In case you missed out on participating this year, the next competition will open in early 2024.