Dear all,
I'm new to AIMMS, and a Newbie to Operations Research at all.
I'm working on a seminar paper in regards to transportation planning for university. Therefore I try to model a slimmed down model of the model enclosed. I dismissed the manufacturing echelon.
At the moment im dealing with the 0-Stock constraint.
I can't put it into AIMMS without getting either message:
The scope of index "w" has not been specified.
The index "w" already has a scope.
In the paper enclosed it's defined as: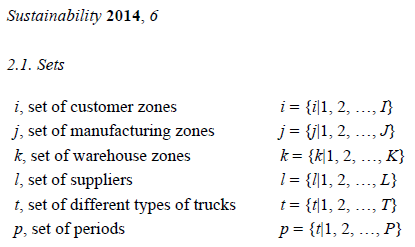 However, because I don't have manufacturing, I modeled the constraint as follows:

TQSW_swvp: Transport quantity from supplier s to transshipment warehouse w with transport vehicle v at period p
TQWC_wcvp: Transport quantity from transshipment warehouse w to customer c with transport vehicle v at period p
What am I doing wrong?
I appreciate your effort.
Thansk in advance.