Hello everyone, 
I face some issues to implement a constraint on AIMMS. 
Just to introduce you the problem: 
Y(o,l,t) is a binary variable which is equal to 1 if a liquid l (a beer) is ready in tank o at period t;
Delta(l) is the fermentation time for a liquid l;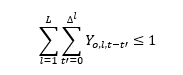 How can I implement this constraint? 
Thank you for your help. 
Regards
Best answer by mohansx 13 April 2020, 02:43
@amadeodum , you are right. You should use the ord function but only in the sum condition. The t-t' in the variable will act as a lead/lag operator. 
Try the below and let me know if that works as you expect or not
sum[(l,u)|ord(u)<=FermTime(l), Y(o,l,t-ord(u)] <= 1
View original