Hi, i found something strange in my MILP model.
I read my input from an excel file to fill my parameter. 
The input looks like this:

I retrieve this from Excel by the following lines:
And eventually in AIMMS it looks like this:

What is so special about this column 7 and 8 that they are moved to the left? 
What can cause the order of the column to be changed without me noticing? 
Note: Also in my set DiscountLevel, the order is changed: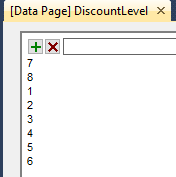 Best answer by gdiepen 5 October 2020, 15:13
Hi Bjorn,
the elements in the set are based on the order that they are read in. However, if you have some hardcoded references to elements within your model (e.g. in a constraint or variable or parameters you use something like if d = '7'), then these elements will come first in your sets when reading them because AIMMS already 'knows' about these elements.
Also, you read in the two sets before in your code, are the elements there in the order you expect them to be in the excel file?
View original