Hi,
I know how to use CSS to change the color of a bar in AIMMS;
@color19-1:     #808dc2;
.mixin-color(color19-1;   @color19-1);
And in this way I can use "color-19-1" to set my bar for example to green or red.

Is there a way to use a gradient to color the bar? It is working for he background of a widget. But when I try the same logic on a bar in a chart it gets the default color.
background-image: linear-gradient(red, yellow);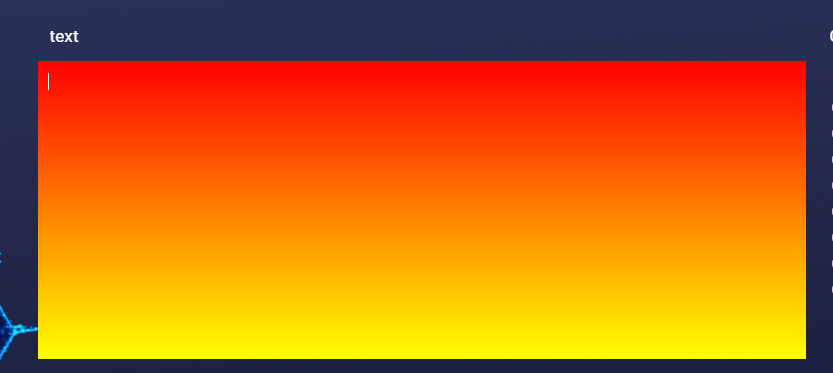 Best answer by Edo Nijmeijer 21 November 2019, 15:47
You're welcome, of course.
And since my newest suggested work-around was also not very straight-forward, I bring it here immediately anyway. For any other readers: please don't use this method to insert anything else into your pages.
Step 1: add a .js file to the resources/js folder of your model. Example content with three example gradients:
const reWritableContainer = document.createElement("DIV");
const svgContainer = document.createElement("SVG");
const contents = `
<defs>
 <linearGradient id="gradient-horizontal-red-yellow">
 <stop offset="0%" stop-color="#ff0000"></stop>
 <stop offset="100%" stop-color="#ffff00"></stop>
 </linearGradient>
 <linearGradient id="gradient-vertical-red-yellow" x2="0" y2="1">
 <stop offset="0%" stop-color="#ff0000"></stop>
 <stop offset="100%" stop-color="#ffff00"></stop>
 </linearGradient>
 <radialGradient id="radialGradient"
 cx="0.5" cy="0.5" r="0.5" fx="0.25" fy="0.25">
 <stop offset="0%" stop-color="red"></stop>
 <stop offset="100%" stop-color="blue"></stop>
 </radialGradient>
 </defs>
`;

svgContainer.innerHTML = contents;
svgContainer.setAttribute("viewbox", "0 0 0 0");
reWritableContainer.setAttribute("style", "display: block; position: absolute; width: 0; height: 0");
reWritableContainer.append(svgContainer);
document.body.insertBefore(reWritableContainer, document.body.children[0]);
// This is really a very, very convoluted way of getting the browser to actually acknowledge this svg for re-use later on.
// But it turns out to be needed, without also damaging the rest of the page
reWritableContainer.innerHTML = reWritableContainer.innerHTML;
Step 2: add a .css file to the resources/css folder, with a suitable css defintion for your chart element, referering to the id of the definition inserted by the script
.barchart .chart-item.bar {
 fill: url(#gradient-vertical-red-yellow);
}
(this will apply the gradient to all bars anywhere, so beware)
View original